Rectory
Location of Church
6 North Church St., Carbondale, PA 18407
Contact Numbers
Rectory: 570-282-2991
Rectory email: strose@echoes.net
Cemetery: 570-282-5557
Sacred Heart Elementary School: 570-282-7930 or 570-282-0340
Sacred Heart High School: 570-282-2790
Message Boards
Events
Links
Discussions
Other Web Features
Parish News & Events, including pictures
Recommended Links
RENEW 2000
Learn about our parish and RENEW 2000. Find out how you can grow in your faith!
Parish Registration
So that our community may be better served, all parishioners should be registered. We must know you belong to our parish in order to serve you better. New residents are welcome and may register by contacting the rectory.
Change of Name or Contact Information
Please notify the rectory of any change in name, address, or phone number. Likewise, let the rectory know if you move outside of the parish.

Father Charles Connor, our pastor, welcomes you to St. Rose.
Appointments with Priests
Appointments may be made by calling or talking directly to a priest. Whenever possible, schedule the appointment with the priest with whom you wish to speak prior to stopping by the rectory.
Pastoral Care of the Sick
Please notify the priest whenever anyone is sick or unable to attend Mass and wishes to receive Holy Communion.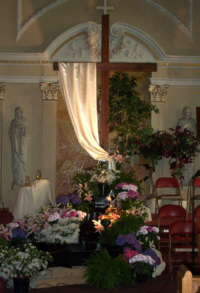 Baptisms
Baptisms are held the first and third Sundays of each month at 1:00 p.m. Prospective parents must attend an information and instruction session before the baptism of their child. Please call the rectory to make arrangements for the Baptism and Instruction Session.
Matrimony
Couples planning to be married in our parish must contact a parish priest at least six months in advance. It is strongly urged that this be done prior to making any other arrangements. Every couple is required to participate in Pre-Cana Instructions, which serves as an enhancement of their preparation to receive the sacrament. Contact the rectory for more information about matrimony requirements.
Gifts and Bequests
There are many generous and creative ways for you to give to your parish. One of the most common ways is to include your Church in your will. Other methods of giving are stocks and bonds, property, life insurance policies, jewelry, or antiques. The rectory has several sample forms of bequest to make your action easy.